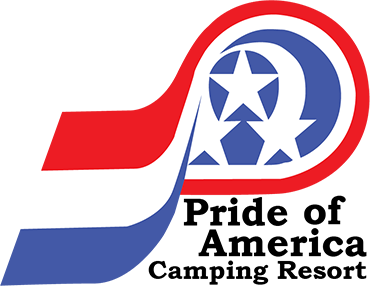 On-Site Fun
Camping is all about making memories and having fun together, and in that spirit, Pride of America offers a wealth of favorite camping activities that are sure to satisfy everyone from the little tykes to Grandma and Grandpa! And if you're interested in planned events and activities, be sure to check out our Themed Weekends!
Awesome Pool
Our pool complex feature two swimming pools that allow you to make a splash and cool off with your friends and family. No camping vacation is complete without making a few memories making waves in the swimming pool!
Kids' Sprayground
Right next to our pool, the Sprayground is the perfect place for the little kids to beat the summer heat by running through the spray, waves, and splashes at Pride of America!
Lake Beach
The swimming beach at Pride of America is the perfect place to gather with the family during those warm summer days to enjoy playing in the sand, using our boat rentals, or splashing around with friends into our 33-acre, spring-fed lake!
Sand Volleyball Court
There aren't many things better than friends and family enjoying a sunny afternoon playing volleyball. The sand court at POA is perfect for teaming up and serving, digging, and spiking shots all day long in Central Wisconsin!
Deluxe Playground
Kids of all ages love our playground at Pride of America. Whether you're swinging, climbing the monkey bars, or exploring our many slides and structures, there's always a good time waiting for the younger camping crowd at POA!
Entertaining Game Room
Enjoy the arcade! The Game Room offers a wide variety of fun, exciting, and nostalgic arcade games that are sure to thrill campers of all ages with that arcade itch.
Jumping Pillow
Bounce the day away! Our jumping pillow is a great way for the kids to burn some energy, have fun, and make friends in the beautiful outdoors. It's completely free to use for all our registered guests!
Lit Horseshoe Pits
A campground classic that's a must-have for any relaxing vacation, our Horseshoe Pit is sure to spark competitive matches and plenty of fun for players and the audience alike! Tournaments scheduled through the year. Check out our themed weekends (cross link) page for dates.
Fishing Piers
Enjoy a day with a line in the water at one of our fishing piers! With a variety of fresh-water species lurking under the surface, you'll be hauling in the catch of the day in no time!
Laser Tag
Everybody will have blast running, dodging, and using teamwork and strategy to take down the enemy in our fun and fast-paced laser tag battles! Tactical laser tag with lots of obstacles and various games.
Basketball
H-O-R-S-E, Around the World, pickup games, or just shooting around… our basketball court at Pride of America is perfect for ballers of all skill levels looking to lose some time hooping with friends!
Olympic Field
Our large recreation field is the site of our Pride of America Olympic games, plus many more large-scale outdoor activities that bring people together during their Portage, Wisconsin family vacation!
Kids Bounce House
Rain or shine, the Bounce House is ready for the kids to enjoy! Located under the roof of our pavilion, there's no fair-weather contingency on bouncing the day away at Pride of America!
Lake Rave Area
Have even more fun in the water with our inflatable floating water features!
Gaga Pit
Get a group together and climb into the GaGa Pit! Kick or hit the ball and see who is the last one standing while trying to avoid getting hit by the ball!